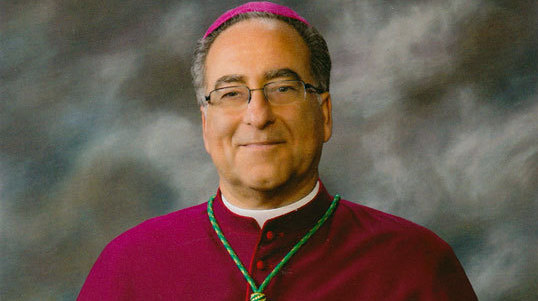 Statement from Bishop Myron J. Cotta Diocese of Stockton 
The devastating news of the revelations of sexual abuse over the past 70 years in regard to several Dioceses in Pennsylvania has had a gut wrenching impact on all of us.  As a member of the clergy, and as your Bishop, I have experienced a variety of emotions this week:  anger, outrage, shame, disheartening frustration – enough is enough!  The devastation of those lives of the survivor victims is beyond one's imagination.  The diabolical behavior of ordained ministers upon the innocent is an abomination. 
The Church and its ministers must be held to a higher standard.  We are called to protect children and youth.  We are called to keep them safe. There is no excuse for what has happened.   
In our Diocese, we faithfully work to be proactive and accountable in reporting all allegations of sexual child abuse and sexual misconduct.  We continue to uphold the promotion and monitoring of our safe environment training programs and protocol.  Not only do we have the assistance of a group of laity who serve on our Diocesan Review Board, but we also assign a Safe Environment Coordinator to each parish and location to assure that the safe environment protocol is being upheld.  Our Diocese remains committed to protecting God's children and vulnerable adults. 
This suffering and turmoil that many now have to face is related to the lack of desire to grow in holiness and lack of accountability of church leadership.  As your Bishop, you are entrusted to my pastoral care, and I assure you that I will accept my responsibility to address any matters that knowingly put the children, the young people, and the vulnerable of this Diocese at risk.   
If you have experienced the trauma of sexual abuse or harassment, I urge you to come forward and report it to the proper authorities.  This could mean notifying police, Child Protective Services, your employer, your pastor or a trusted member of your family. 
Let us not forget, we are a people of hope.  I encourage you to continue your good works. We must work through this together and continue to accompany and care for the needs of the people we serve. 
I ask you to pray for the victims and their families. Let us remember in our prayers all the suffering experienced by the innocent; let us pray for their healing and recovery.  I also ask for your prayers for me and for all priests who have been faithful in their ministry.  We, too, grieve with our brothers and sisters who have been hurt and broken by this grave sin that has victimized so many.  
"For the sake of his sorrowful passion, have mercy on us and on the whole world." 
Our Lady, Mother of the Church, pray for us! 
Prayer for Healing Victims of Abuse
God of endless love,
ever caring, ever strong,
always present, always just:
You gave your only Son
to save us by the blood of his cross.

Gentle Jesus, shepherd of peace,
join to your own suffering
the pain of all who have been hurt
in body, mind, and spirit
by those who betrayed the trust placed in them.

Hear our cries as we agonize
over the harm done to our brothers and sisters.
Breathe wisdom into our prayers,
soothe restless hearts with hope,
steady shaken spirits with faith:
Show us the way to justice and wholeness,
enlightened by truth and enfolded in your mercy.

Holy Spirit, comforter of hearts,
heal your people's wounds
and transform our brokenness.
Grant us courage and wisdom, humility and grace,
so that we may act with justice
and find peace in you.
We ask this through Christ, our Lord. Amen.


 Declaración del Obispo Myron J. Cotta Diócesis de Stockton 
 
La noticia devastadora de la revelación de los abusos sexuales en los últimos 70 años referente a varias Diócesis en Pensilvania, ha tenido un impacto desgarrador en todos nosotros. Como miembro del clero y como su Obispo, he experimentado una variedad de emociones esta semana: ira, indignación, vergüenza, frustración desalentadora, ¡ya es suficiente!  La devastación de las vidas de las víctimas supervivientes está más allá de la imaginación. El comportamiento diabólico de los ministros ordenados sobre los inocentes es una abominación. 
La Iglesia y sus ministros deben ser mantenidos a un nivel más alto. Estamos llamados a proteger a los niños y jóvenes. Estamos llamados a mantenerlos a salvo. No hay excusa para lo que ha sucedido.  
En nuestra Diócesis, trabajamos fielmente para ser proactivos y responsables en reportar todas las denuncias de abuso sexual de menores y mala conducta sexual. Continuamos defendiendo la promoción y el monitoreo de nuestros programas y protocolos de capacitación en ambiente seguro. No solo contamos con la asistencia de un grupo de laicos que forman parte de nuestra Junta de Revisión Diocesana, sino que también asignamos un Coordinador de Ambiente Seguro a cada parroquia y ubicación para asegurar que se mantenga el protocolo de ambiente seguro. Nuestra Diócesis sigue comprometida con la protección de los hijos de Dios y los adultos vulnerables. 
Este sufrimiento y agitación que muchos ahora tienen que enfrentar está relacionado con la falta de deseo de crecer en santidad y la falta de responsabilidad del liderazgo de la iglesia. Como su Obispo, ustedes están confiados a mi cuidado pastoral, y les aseguro que aceptaré mi responsabilidad de abordar cualquier asunto que a sabiendas ponga en peligro a los niños, los jóvenes y los vulnerables de esta Diócesis. 
Si han experimentado el trauma del abuso o acoso sexual, les insto a que se presenten e informen a las autoridades correspondientes. Esto podría significar la notificación a la policía, a los Servicios de Protección Infantil, a su empleador, a su párroco o a un miembro confiable de su familia. 
No olvidemos, somos un pueblo de esperanza. Los  animo a que continúen sus buenas obras. Debemos trabajar juntos en esto y seguir acompañando y cuidando las necesidades de las personas a quienes servimos. 
Les pido que oren por las víctimas y sus familias. Recordemos en nuestras oraciones todo el sufrimiento experimentado por los inocentes; oremos por su sanación y recuperación. También pido sus oraciones por mí y por todos los sacerdotes que han sido fieles en su ministerio. Nosotros también sufrimos con nuestros hermanos y hermanas que han sido lastimados y quebrantados por este grave pecado que ha victimizado a tantos. 
"Por el bien de su dolorosa pasión, ten piedad de nosotros y del mundo entero". 
¡Nuestra Señora, Madre de la Iglesia, ruega por nosotros! 
 
Oración Para Sanar Víctimas de Abuso
Dios de amor infinito,
siempre bondadoso, siempre fuerte,
siempre presente, siempre justo:
Tú diste a tu único Hijo
para salvarnos por la sangre de su cruz.

Jesús Bueno, pastor de paz,
une a tu propio sufrimiento
el dolor de todos quienes han sido heridos
en cuerpo, mente y espíritu
por aquellos quienes traicionaron
la confianza puesta en ellos.

Oye nuestro llanto mientras sufrimos
por el daño causado a nuestros hermanos y hermanas.
Infunde sabiduría en nuestras oraciones,
alivia nuestros corazones intranquilos con la esperanza,
endereza los espíritus tambaleantes con fe:
Muéstranos el camino hacia la justicia y la entereza,
danos la luz de la verdad y cúbrenos con tu misericordia.

Espíritu Santo, consolador de corazones,
cura las heridas de tu pueblo
y rescátanos de nuestra dispersión.
Danos valentía y sabiduría, humildad y gracia
para que así actuemos con justicia
y encontremos paz en ti.
Te lo pedimos por Cristo, Nuestro Señor. Amén.


Modern Catholic social teaching is the body of social principles and moral teaching that is articulated in the papal, conciliar, and other official documents issued since the late nineteenth century and dealing with the economic, political, and social order. This teaching is rooted in the Hebrew and Christian Scriptures as well as in traditional philosophical and theological teachings of the Church.